Are you sweating in the humid and hot summers of Florida! - No need to start your day with irritation and lose your cool just because your Air Conditioner unit has decided to go out of service on a hot summer day. Rafael's Air Conditioning can handle any kind of Air Conditioning Repair Miami services, numerous customers may be confronted with. Whether you Air Conditioner have stopped working in an afternoon or in the middle of the night of a nice weekend, we provide Air Conditioning Repair Miami service around the clock. Regardless of what type of services, you are looking for; we provide every type of Air Conditioner Repair services, including: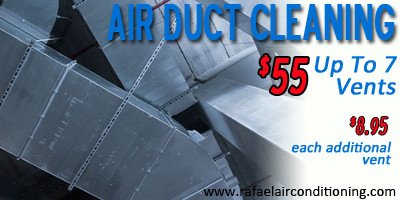 ☛ Air Conditioner Duct Cleaning
☛ Full Air Conditioner Dryer Vent Cleaning
☛ Air Conditioner Repair
☛ Air Conditioning Maintenance
☛ Regular Air Conditioner Check UP
☛ Solar Air Conditioning System Repair
We are ready to assist you with your Air Conditioner units, whenever you need. With our AC Duct Cleaning and full dryer vent cleaning services, you can not only be breathing in a fresh, healthy and allergens free cool air. Regular cleaning not only keeps your Air Conditioner work efficiently, it also protects you from harmful debris, and building dryer lint, which is a major cause of home fires. With our regular Air Conditioning Check UP servicing, you can protect your Air Conditioner and also your family's health. Besides this, our impeccable solutions for Solar AC Repair will help your air conditioner unit to harness the solar energy more efficiently.
To ensure efficient AC Repair Service in Miami, we have well-trained, highly qualified, and certified technicians to work for your Air Conditioning units. On your single call, one of our air conditioner technicians arrives at the right time. Before starting any repairing service, we thoroughly diagnose the Air Conditioner to make sure that we do our services efficiently. We do the AC Installation Services the same day with 100% guaranteed customer satisfaction. We always give priority to our potential customers and hence we offer Eco Friendly – Go Green services at competitive prices. This is why we are considered as one of the Best AC Repair Miami services in all over Florida.
For more than last 15 years, Rafael's Air Conditioning has been servicing the Air Conditioning Repair Miami service needs of not just Miami, but all of the Florida. Our Air Conditioner Installation, Repair, maintenance and all Air Conditioning Services including solar AC repair services cover almost nearly everywhere you can think of, from Miami to Davie, to Kendall, to Hialeah and other nearby places like North Miami, South Miami and its Beach Areas. We are always recommended by our customers for AC Repair Service in Miami. We are just a phone call away; as we have our experienced technicians on the road 24*7, always ready to assist you with your AC or HVAC units. For any type of AC Repair Maintenance, you have come to the right place!
We cover most of South Florida , including the neighborhoods of Miami, Miami Beach and much more. Remember, we are just a call away in your neighborhood, and we have a 24/7 emergency response team always ready to service our neighbors.